1. Privacy Policy
Our Privacy Policy applies to the personal data that Libertine Global Solutions (Nig) Limited collects and uses. References in this Privacy Policy to "LGS", "we", "us" or "our" mean Libertine Global Solutions Nig Limited: Company registration number: RC 898429 Registered Address: Road 315, House 8 Trans Amadi Gardens, Odili Road, Port Harcourt, Rivers Estate, Nigeria. LGS controls how your personal data is collected and the purposes for which we use your personal data. LGS is the "data controller" for the purposes of the UK Data Protection Act 1998 or the EU Regulation 2016/679 (GDPR) when the regulation comes into effect. In our provision of maritime and risk management services LGS want all stakeholders to be fully informed and up-to-date with how LGS uses data. If you provide your information ('data') and consent to use it the manner in which LGS use your information is set out in this policy. If LGS share information ('data') with you and you have agreed to operate within the GDPR Regulation guidelines the manner in which LGS use this information is set out in this policy.
This Privacy Policy explains the following:
The types of data that we might collect
How we store and handle that data
How we keep data safe
How we communicate our data processes
The legal basis on which we manage your data
LGS commit to:
Managing your data responsibility IAW this Policy and Appendix Compliance Statement
Routinely reviewing all policy and procedure every quarter inclusive of data management
Not removing your data from our systems without your explicit consent to do so
Publishing revisions to this Privacy Policy on the company website
If you have any queries, questions or would like to report an issue regarding this policy, please contact us: [email protected] / +44 (0) 7432 349305.
2. Who we collect information (data) from & why we collect it
When using the term "personal data" in our Privacy Policy, we mean information that relates to you and allows us to identify you, either directly or in combination with other information that we may hold. Your personal data includes, for example, your name, your contact details or data from when you interact with us. We collect some personal data from you, for example when you work with LGS, use our website, use our services or simply contact us. We may also receive your personal data from our suppliers who provide services to you on our behalf (for example when you provide feedback on our services). We collect, process and issue information/data from three groups including – but not limited to – the stakeholders listed below: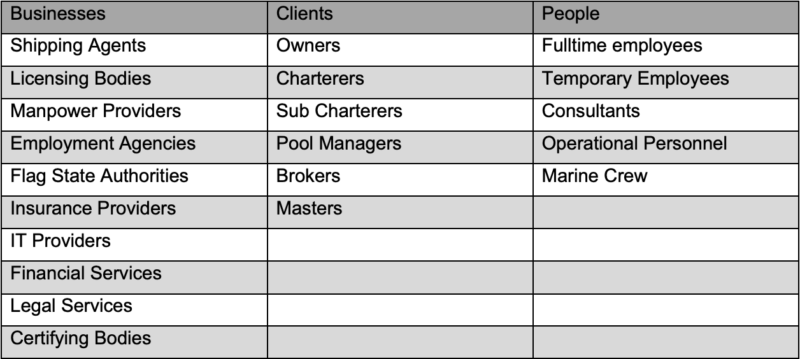 Note1: All stakeholders Data Processers.
Note2: LGS Senior Management are Data Managers for the departments they run.
Note2: LGS department staff are Data Processers.
The nature of the maritime and risk management business means that we have to process and share relevant data on a daily basis, because every task / project is different, and we work with many different suppliers, partners, sub-contractors and clients all over the world. Each group of stakeholders (clients, people, third-party organisations) has a Data Manager who also acts as the responsible data controller for that particular group. If you have any queries regarding how LGS manage data, you can get in touch at any time. Details and contact information for the Data Manager of each of these departments can be found in Appendix 1 Data Management.
3. Categories of data we collect
The law on data protection sets out several different reasons for which a company may collect and process your personal data, including:
Consent
We can collect and process data with consent. When collecting and processing personal data we do so in accordance with the requirement.
For example, flag approval submission of team details, quarterly declaration of deployment to insurers.
Contractual Obligations
We need personal data to comply with our contractual obligations.
For example, if you want to work for us as a sub-contractor, we may need personal information about such as your employment history to make sure you are qualified to meet the requirements expected from our clients and industry supply chain.
Legal Compliance
If the law requires us to, we may need to collect and process an individual's data.
For example, we can pass on details of people involved in fraud or other criminal activity affecting the Partnership to law enforcement.
Legitimate Interest
In specific situations, we require an individual's data to pursue our legitimate interests in a way which might reasonably be expected as part of running our business and which does not materially impact their rights, freedom or interests.
For example, if you are a subcontractor who has worked for us before, we may use your email address to contact you about future employment opportunities.
We may collect and process the following categories of information: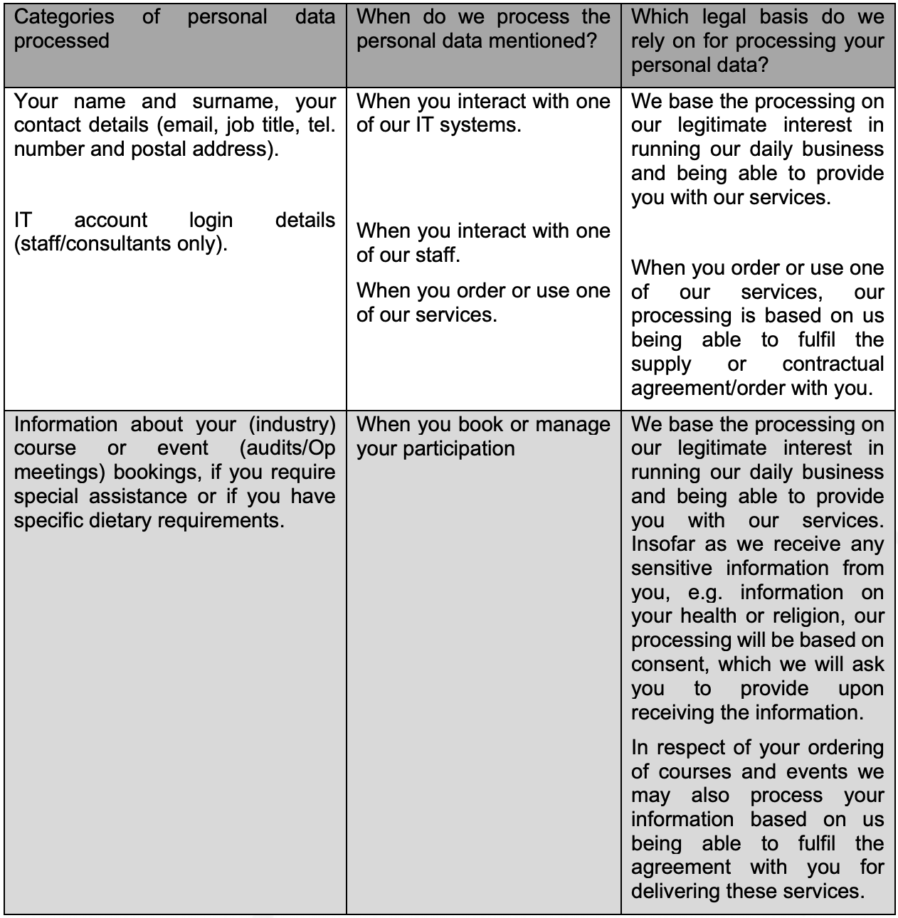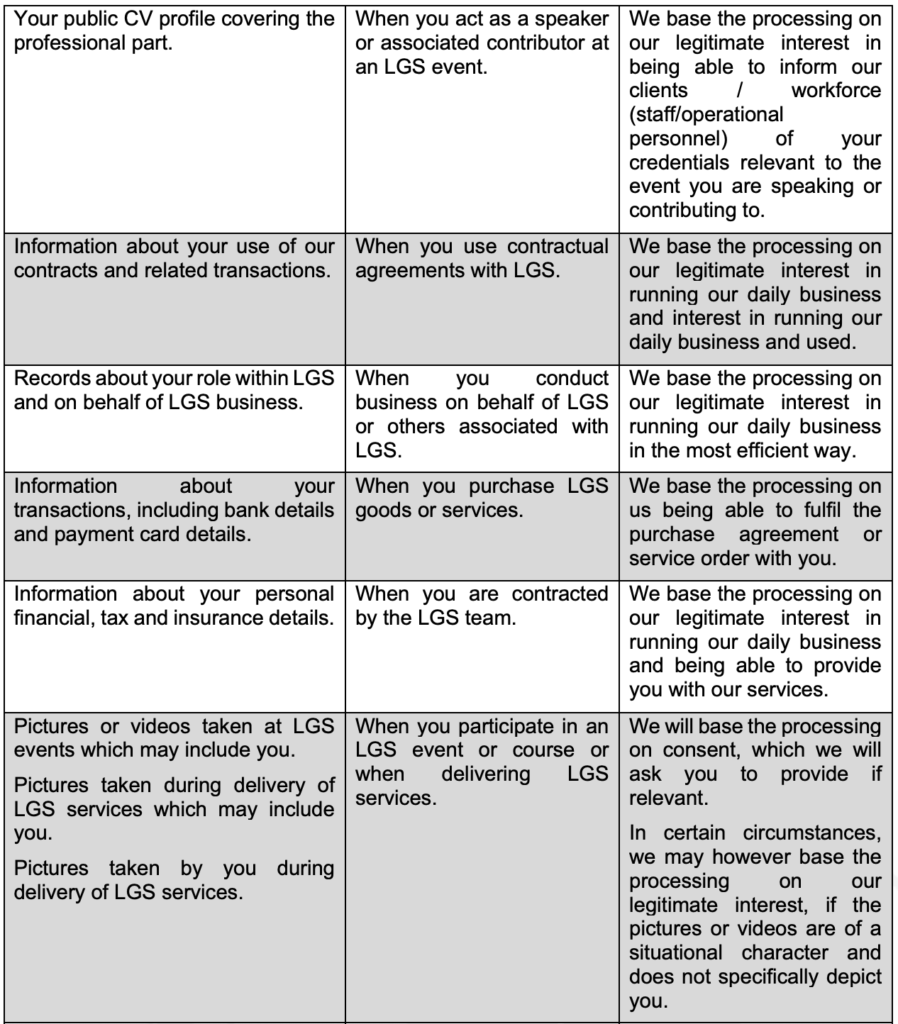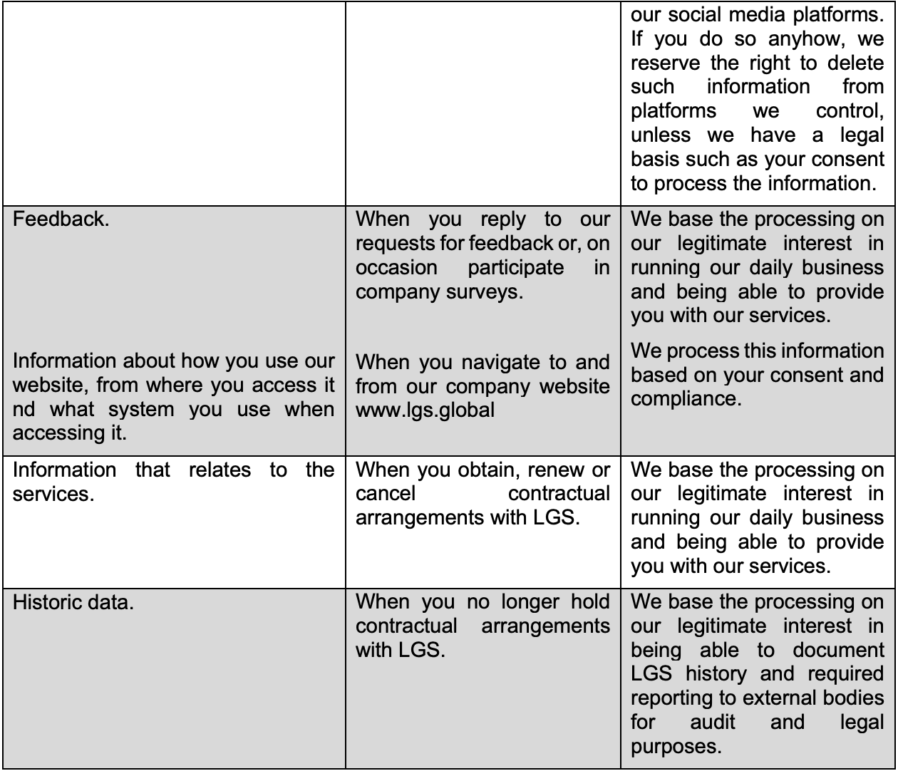 4. How We Use Your Personal Data
We use your personal data for the following purposes:
In the provision of professional services
When you ask for advice, participate in our delivery of services (ie. commercially, operationally or via training), when attending events or meetings (ie. workshops, audits), when you use our website or products or when recording quarterly / annual statistics / reports, we use your information to perform our services in relation to any of the above. For example, to answer an enquiry, to issue an invoice, to determine who created a contract or to issue an exam certificate.
To communicate with you and manage our business requirements
Occasionally we may need to contact you by email or phone for administrative, commercial or operational reasons. For example, in order to send you information related to your involvement in our delivery of services, invoices, confirmation of bookings and payments, or to notify you of information relevant to the delivery of services (routine and non-routine). Notifications are for information sharing purposes relevant to the industry and not for marketing purposes.
Your opinion is very important to us, so we may contact you for feedback.
We will use your communications with us and the feedback you may provide in order to manage our relationship with you and to improve our services and experiences for all parties we work with to deliver our business.
To personalise and improve your business experience
We may use your personal data in order to develop our services. For example, if you inform us about your role in the industry and have consented to receive marketing communications we will be able to send you information relevant to your part of the delivery of our business. (via email or our website). To share news and information that may be of interest to you If you have given us your consent to receive marketing material, we may send you marketing communications. For example, distribution of our Intelligence products. Please note that we do not share your contact details or other personal data with other companies for marketing purposes, unless we have first obtained your written consent to do so.
If you do not want to receive communications / notifications from us, you can simply tell us so by contacting us: [email protected] / +44 (0) 7432 349305.
You can also choose to opt out from receiving marketing communications at any time.
To improve services, fulfil our administrative purposes, protect our business interests
The business purposes for which we will use your information include, but are not limited to, accounting, billing and audit, credit or other payment card verification, fraud screening, safety, security and legal purposes, statistical and marketing analysis, systems testing, maintenance and development of our products and services.
Compliance purposes
We may also use your personal data for the following:
A legal obligation which requires processing by law or in order for us to be able to establish, enforce, or defend against legal claims.
Insurance reporting and management procedures
Audit and due diligence purposes
5. Your Rights
You have legal rights under EU data protection legislation.
Below is a summary, to read the full regulation refer to the General Data Protection Regulation (Regulation (EU) 2016/679) https://gdpr-info.eu/ sections 3–5:
Access rights. You are entitled to be informed as to whether LGS is processing personal data about you. If we are, you are entitled to information regarding, among other things, which personal data we are processing, the purposes of the processing, which external recipients have access to your personal data, and how long we save your personal data.
Data portability rights. You have a right to receive a copy of the personal data which you have provided to LGS, in a structured, commonly used, and machine-readable format. You also have the right to require that LGS transfers this personal data to another controller of personal data. The right to data portability applies to personal data which is processed in an automated manner and which is based on your consent or on an agreement to which you are a party.
Correction of wrong or incomplete data. You have a right to require that LGS corrects erroneous or incomplete information about you.
Deletion of data. You have a right to require LGS to delete your personal data under certain Company Policies 18CP02 Privacy Policy C4 circumstances, for example where the personal data is no longer necessary for the purpose for which we collected it.
Right to object to processing of data. You have the right, under certain circumstances, to object to LGS's processing of your personal data.
Right to object to direct marketing. You have the right at any time to object to LGS processing your personal data for direct marketing purposes. If you object to such processing, LGS must discontinue all direct marketing to you without undue delay.
Right to restrict the processing of personal data. You have the right to require LGS to restrict its processing of your personal data in certain circumstances. For example, if you have denied that your personal data is correct, you can request a restriction on the processing during a period of time which allows LGS to verify whether the personal data is correct.
Right to withdraw consent for use of data. If our processing is based on your consent, you have the right to withdraw your consent to our processing of your personal data at any time. Such withdrawal does not affect the lawfulness of our processing based on your consent before its withdrawal.
Complaints. If you have any complaints regarding LGS's processing of your personal data, you are entitled to file such complaints with the Data Protection Authorities (Information Commissioners Office – ICO – https://ico.org.uk/)
6. Security of your personal data
LGS are committed to taking appropriate technical and management measures to protect your personal data against accidental or unlawful destruction, loss, alteration, unauthorised disclosure of, or access to personal data that we hold / process about you.
When you provide your personal data to us, this information is held on a secure, encrypted cloud and associated financial software.
As described in this Privacy Policy, we may disclose your personal data to third parties when delivering our business services. Any third party LGS discloses your personal data to has been issued a compliance statement requesting / requiring the data is managed in line with the EU Regulation.
The information that you provide to us will be held on hosted systems not owned by us, which are located in premises of an appointed third party within the EU.
We may also allow access to your information by our employees who act as data processors on our behalf for the purposes described in this Privacy Policy or for other purposes for which your consent or compliance has been granted.
7. Retention of Personal Data
We will retain your personal data for as long as we need it in order to fulfil our purposes set out in this Privacy Policy.
We may also save your personal data for a longer period of time where necessary in order to fulfil the following:
A legal obligation which requires processing by law or in order for us to be able to establish, enforce, or defend against legal claims.
Insurance reporting and management procedures
Audit and due diligence purposes
8. Website
LGS use Google Analytics and our website collects visitor data to analyse traffic on our site. This information helps us understand your interests and helps us improve our website. Company Policies 18CP02 Privacy Policy C4 When you visit our site www.lgs.global, the pages that you look at, and a short text file called a cookie, are downloaded to your computer. A cookie is used to store small amounts of information. This information is collected for traffic analysis only. The cookie does not contain personal details. Depending on the browser that you use, you can set your preferences to block/ refuse cookies, and/ or notify you before they are placed.
We do not use your data for market research or advertising purposes.
9. Storing Data
All data is kept securely on LGS local and cloud platforms. Our chosen IT suppliers follow our compliance policies regarding data processing at a minimum in the following IT environments, where applicable:
All LGS staff follow strict security policies for system access and data storing
All LGS stakeholders have the relevant access and visibility of our systems
Our chosen suppliers have controlled access to maintain and upgrade our systems to ensure security and maintenance patches are regularly applied. As required, LGS share the minimum personal data with these stakeholders in order for them to support and assist us to provide the LGS Group with an effective and secure IT Service.
LGS ensure the IT stakeholders give their employees appropriate access to our systems and follow strict access termination procedures if required.
LGS servers are located within the EU and abide by EU Data processing and GDPR regulations
Any data deemed to require removal or following request to withdraw consent from LGS systems will be logged in the company Data Management Review Matrix
In the instance that data recovery from our encrypted backups is ever required it will be cross-referenced with the Data Management Review Matrix to ensure any removal requests / withdrawal of consents are actioned appropriately and immediately purged as required upon restoration.
10.Transfers of personal data outside of the EU/EEA
Your personal data will be processed within our global IT systems and by staff primarily within the EU/EEA. LGS's third party supply chain will be required to hold data for specific processes for a specific timeframe in and outside the EU/EEA.
For example, flag states, medical management response teams, commercial client entities, shipping agents. Company Policies 18CP02 Privacy Policy C4
11. Updates to our Privacy Policy
We will make changes to this Privacy Policy as required. This policy has been written to the guidelines of the new European data protection legislation which will be in force from 25 May 2018 (the "General Data Protection Regulation").
LGS commit to:
Routinely reviewing all policy and procedure every quarter.
Publishing revisions to this Privacy Policy on the company website www.lgs.global.
If you have questions in relation to your personal data, how it is stored or would like to submit a request for an extract from the register, data portability, correction, deletion, objection, restriction or withdrawal of consent, contact us at [email protected].